The Free Clinics' Spring Salon at Biz611 raised $46,000
An event recently held at Biz611 in Hendersonville, N.C., to benefit The Free Clinics raised $46,000 that will go to help the nonprofit continue to provide free healthcare for those in need in Henderson and Polk counties.
The annual event, called The Spring Salon, was held at Biz611 for the first time this year. Biz611 is an eco-friendly building that opened last year as a business incubator for start-up green and software development companies. During the event, guests could tour Biz611 and The Landmark Apartments located next door.
GreenBy3 oversaw the renovation of The Landmark Apartments and oversaw the construction of Biz611. Read more about GreenBy3's work on The Landmark Apartments and Biz611.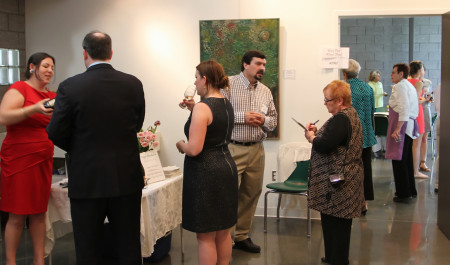 The Spring Salon drew 400 guests who enjoyed food from six local restaurants, fine wine tastings and local craft beer, as well as a variety of music and art displayed by local artists.
"The dual setting of Biz611 and The Landmark Apartments really highlighted how open the possibilities are for sustainable construction and renovation," said Sarah Kowalak of The Free Clinics. "Guests were blown away by the meticulous historical renovations to The Landmark, with green features throughout. And they were inspired by the cutting-edge technology and cool vibe of Biz611. It was the perfect backdrop to talk about The Free Clinics' own focus on the efficient usage of resources to improve the lives of our patients."
Maggie Snoke of GreenBy3's Hendersonville office was on hand to lead tours and describe different features of each building to event goers.
"One of the most popular features were the soundproof windows and doors. Everyone was fascinated by how effectively they block out the sounds of downtown Hendersonville surrounding the building," Snoke said. "Throughout the evening, everyone was free to wander around and explore both buildings. Two of the apartments, including the penthouse suite, were open for viewing and there was even a wine tasting on the roof."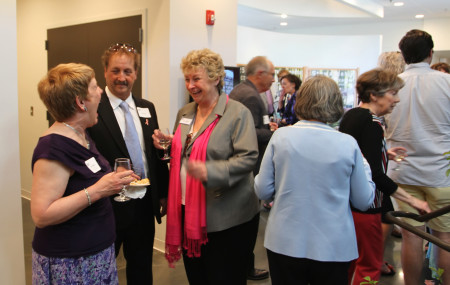 "The event was a tremendous success, bringing in over $46,000 to help The Free Clinics continue our work of providing free healthcare for those in need in Henderson and Polk counties," Kowalak said. "Our model of using volunteers to provide high quality care for our patients makes us the most efficient and economical healthcare in our community, with each dollar we receive multiplied to provide $7 in the value of care provided to our patients. With that calculation, the Spring Salon will help provide over $300,000 worth of care to our low-income, uninsured neighbors.
"The Free Clinics is so grateful to Biz611 for helping bring our vision for this event to life, and for supporting the health care safety net in our community," Kowalak said.
Tagged: Biz611, The Free Clinics, The Landmark Apartments